Cars are undoubtedly among the greatest discoveries of mankind. As early as the 18th century, the first attempts to create steam and turbine-powered passenger and luggage transport machines demanded that this invention become the spark that would change our lives for centuries to come.
But the automotive industry has never developed at such a furious pace as in the twentieth century. And while many find this fact unbelievable, many revolutionary discoveries in the automotive world happened just then.
The incredible innovation of designers and pioneering manufacturers in the industry gives a unique charm to their works from the beginning of the century until the Second World War. The models produced then are still revered as antiques and valuable relics, and the most valuable are those that are really well preserved to the point that they can carry us today, returning us to the spirit of the times.
Today retro cars are an expensive hobby, if we want to own them, because they need really special maintenance to maintain their good condition and price. But if we want to try them out and learn something about them, we can rent such a car for our holiday or for a wonderful evening in a wonderful setting.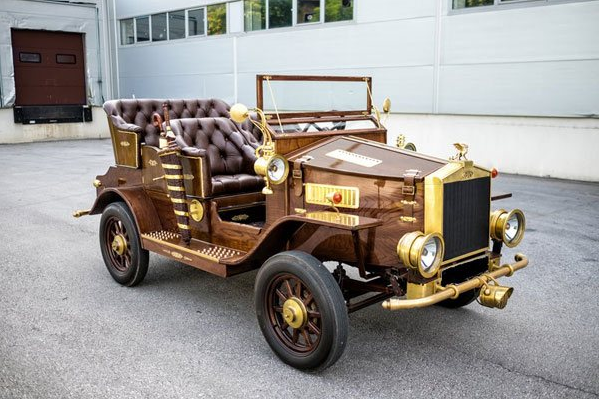 Retro car collecting is becoming increasingly popular globally. And although in our country it still remains a relatively unexplored territory, despite everything there are people who are extremely passionate about it and for them vintage cars are a real passion. There are several Bulgarian collectors who can boast of unique collections. These are cars that are:
wanted for years
they are acquired at the cost of a huge investment of labor, time and money
restored with care, knowledge and love
In order to be qualified as "retro", a car must be over 20 years old, and "antiques" we call those produced until the beginning of the XX century. There are few collectors who can boast of a 100-year-old a car that is still in perfect condition.
Owning one is also a huge responsibility, because classic vehicles require special care. It sounds incredible, but it is far from unattainable, as long as we set it as a goal and work to achieve it.
It is in Bansko that one of the largest collector car parks in the country is located, and its treasures amaze the visitors and the inhabitants of the resort town of Pirin. One of the brightest representatives of retro cars here is Seven Arrows, which was produced at the beginning of the last century, and is still in motion and still in full working order. This luxury carriage from 1905 is available to those who want to ride it and walk with it around the picturesque Bulgarian resort.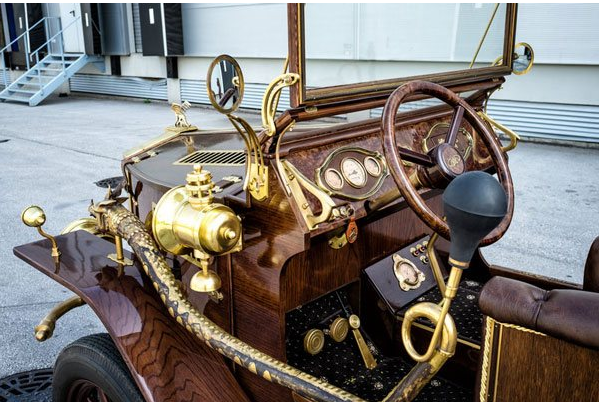 When we want to ride in a luxury retro car, the wooden Seven Arrows from 1905 is just the perfect choice. Although it is at this impressive age, your car is in perfect condition and you can fully rely on it for your walk.
In classic beige-wood color with gold ornaments, the model is a great example for its time, and to ride on it is a golden opportunity. It is made of metallic gold and brown leather in combination with a wooden body. And the best part is that Seven Arrows was created for worldly life.
Make your engagement or prom an unforgettable wonderful memory, by getting on the first-class three-seater carriage on wheels with your partner, which will make you feel like a great person! The car is a convertible, which gives it an extra star feeling.
It can be said that the year in which Seven Arrows was produced was a turning point. 1905 is actually one of the cornerstones in the development of the automotive industry. If we take a brief look at the history of this industry, we will find that it is then that the so-called era of veterans ends and the era of brass cars begins.
Appearing at this turning point, Seven Arrows is a child of her time and antiquity with character. It really preserves a lot of the feeling of the veterans who ruled from the end of the 19th century and the first years of the 20th century. At the same time, it is an extremely innovative car for its time. providing a unique feeling when we drive it or ride in it.
The luxury interior of the car even for those who are not specialists in retro cars, immediately gives a sense of the breath of a bygone era, when the car was not just a means of transportation, but something that brings us a real experience. their sophistication is what makes antiques so valued and liked, and everyone will appreciate them, whether or not they have a collector's weakness.
In recent years, we seem to have become accustomed to looking for as new cars as possible. But are the latest models really the greatest? On the contrary, long before the current leaders of the automobile market prevailed, a number of cult models were born, which today are dignified centenarians.
This Seven Arrows, for example, is one of them. He is now 115 years old and can still catch the eye, crossing the main street of Bansko! With the luxurious design and stylish appearance of Seven Arrows you will be able to shine on every holiday and special occasion.
Riding in this car is a real pleasure and adventure. It fits perfectly with up to two passengers in the comfortable rear seats.  In the front, the driver will look just like a real royal carriage driver while driving this classic, and he is not just lying on his old laurels.
You will be impressed by how much the steering wheel and all the control levers of the car are preserved. This is because the quality of the materials used in the manufacture of Seven Arrows are extremely high quality and are made to last quite a long time. In addition, the restoration was carried out thoroughly, with understanding and attention to detail.
This retro vehicle is great for scenic walks or nice parties in the city. You can also rent this car for your romantic dinner with your partner, and why not for your wedding night!
Thus the romantic memories will be sealed as in a true magical story. Seven Arrows is an extremely rare model that brings elegance and luxury into our lives. You can find this and many more  collector's car rental models with us at Brone.bg.